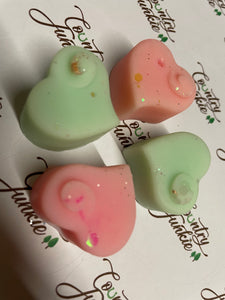 5x Pomegranate and Rhubarb Hearts
This succulent, fruity accord unfolds over a juicy, refreshing harmony of orange, peach, apple, grapefruit and the tartness of rhubarb, refreshed by hints of lychee. The fragrance continues to flourish over a mouthwatering heart of juicy pomegranate, strawberry, raspberry and pear. All of this is cushioned by deliciously fresh undertones of rhubarb.
Similar in style and identity to a well known JM fragrance.  
 All our wax melts are made with 100% Natural Soy Wax. They are highly fragranced with a variety of beautiful scents to suit your mood. Our wax melts also contain Bio-degradable glitters and added mica powder to give an enchanting shimmering display as they melt. The snap bars and hearts are easy to use. Simply add a full heart or snap off a piece of your snap bar and pop it in your wax melter (suitable for both tealight and electric melters) and the beautiful scent will fill your room as the wax melts. 
Wax Melt Safety
Keep melted wax away from children and pets 
Never leave unattended 
Do not overflow your melt bowl 
Wax will remain hot for a while after the heat source is removed 
Do not attempt to remove the burner until after the wax is cooled and set
Do not add fragrance or water to the wax 
Use unscented 4 hour tealight candles 
Do not use 8 hour tealight candles 
Ensure the surface under the melter is heatproof 
DO NOT EAT